Tent & Party Rentals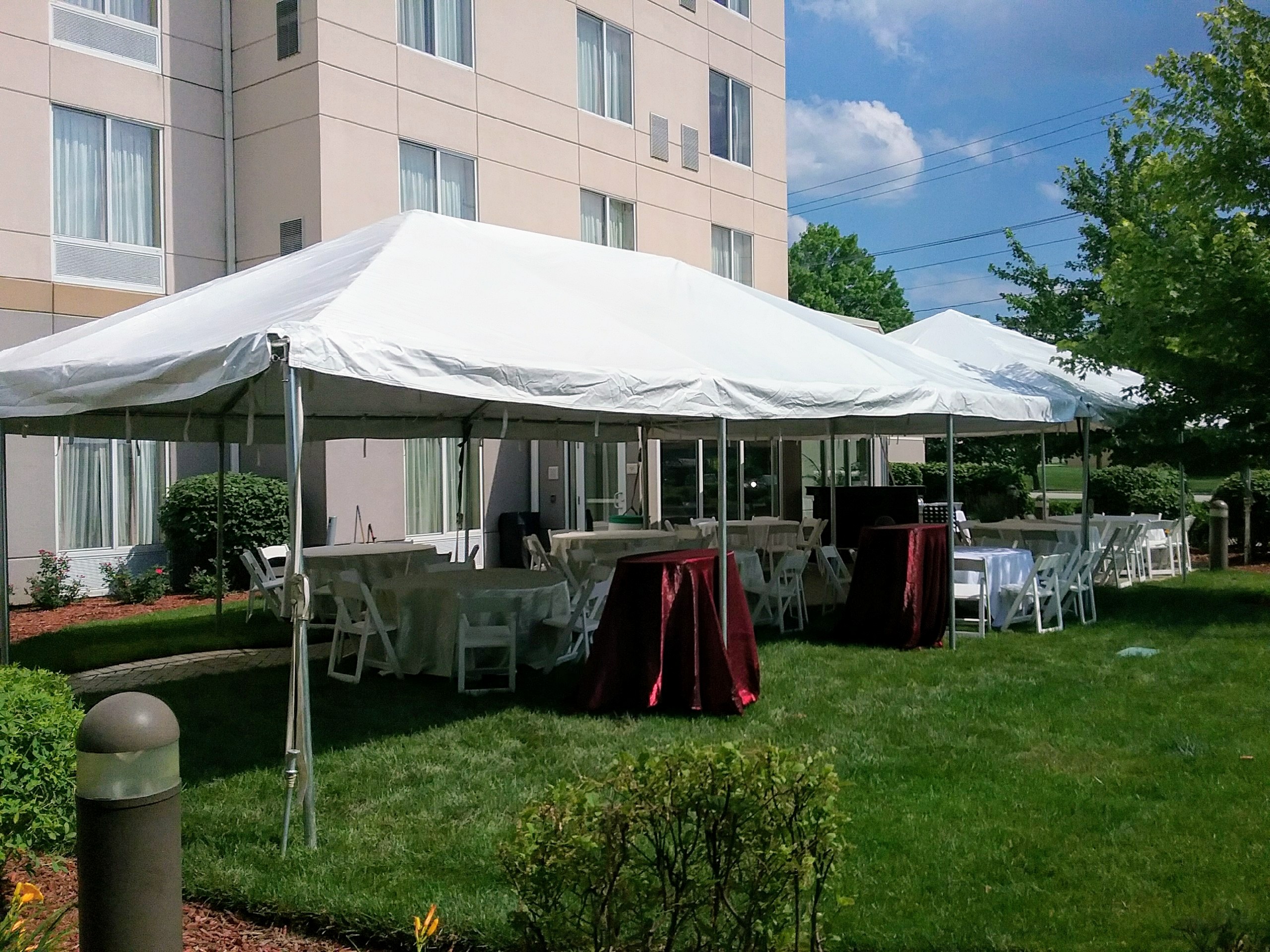 PRICES INCLUDE STANDARD DELIVERY WITHIN LOCAL DELIVERY ZONE.

STANDARD DELIVERY IS NO FURTHER THAN 10 FEET FROM TRUCK AND OR ROADWAY ADDITIONAL FEES WILL BE CHARGED PAST THAT.

MAIN AWNING IS NOT RESPONSIBLE FOR TREE, SHRUB OR GRASS DAMAGE CAUSES BY DELIVERY OR INSTALLATION.

MAIN AWNING IS NOT RESPONSIBLE FOR DAMAGES TO UNDERGROUND SPRINKLER SYSTEMS, WATER, GAS, OR ELECTRICAL LINES.

TENTS ARE MEANT AS TEMPORARY SHELTER AND MUST BE EVACUATED UNDER EXTREME WEATHER CONDITIONS.

TENTS ARE MADE OF WATER RESISTANT MATERIALS THEY ARE NOT GUARANTEED WATER PROOF. 

PRICES QUOTED ARE FOR A WEEKEND OR 3 DAY PERIOD UNLESS OTHERWISE NOTED.
PAYMENT POLICY: A FIFTY PERCENT DEPOSIT IS REQUIRED AT TIME OF BOOKING. FINAL PAYMENT IS DUE AT DELIVERY.

CANCELLATION POLICY: FULL REFUND OF DEPOSIT WITH CANCELLATION 10 DAYS PRIOR TO EVENT . FIFTY PERCENT RETURN OF DEPOSIT IF CANCELLATION IS 3 DAYS PRIOR TO EVENT.
Pole Tent Prices
Frame Tent Prices
Width
Length
RENTAL PRICE
Width
Length
RENTAL PRICE
20
20
$

260.00
10
10
$ 90.00
20
30
$

270.00
10
20
$ 180.00
20
40
$

360.00
10
30
$ 270.00
20
60
$

540.00
10
40
$ 360.00
20
80
$

720.00
10
50
$ 450.00
20
100
$

900.00
10
60
$ 540.00
30
30
$ 270.00
20
20
$

304.00
30
45
$ 405.00
20
30
$

360.00
30
50
$ 450.00
20
40
$

480.00
30
60
$ 540.00
20
60
$

720.00
30
75
$ 675.00
20
80
$

960.00
30
90
$ 810.00
20
100
$1,200.00
40
40
$ 480.00
30
30
$

540.00
40
60
$ 720.00
30
40
$

720.00
40
80
$ 960.00
30
50
$

900.00
40
100
$1,200.00
30
60
$1,080.00
40
120
$1,440.00
30
70
$1,260.00
40
140
$1,680.00
30
80
$1,440.00
40
160
$1,920.00
30
90
$1,620.00
40
180
$2,160.00
30
100
$1,800.00
40
200
$2,400.00
40
40
$

960.00
60
60
$1,080.00
40
60
$1,440.00
60
80
$1,440.00
40
80
$1,920.00
60
90
$1,620.00
40
100
$2,400.00
60
100
$1,800.00
40
120
$2,880.00
60
120
$2,160.00
40
140
$3,360.00
60
140
$2,520.00
40
160
$3,840.00
60
160
$2,880.00
40
180
$4,320.00
60
180
$3,240.00
40
200
$4,800.00
60
200
$3,600.00
60
220
$3,960.00
60
240
$4,320.00
50
50
$2,500.00
60
260
$4,680.00
50
60
$3,000.00
60
280
$5,040.00
50
70
$3,500.00
60
300
$5,400.00
50
80
$4,000.00
60
320
$5,760.00
50
90
$4,500.00
60
340
$6,120.00
50
100
$5,000.00
60
360
$6,480.00
CEILING FAN W/LIGHT PACKAGE
CHANDELIER DELUXE LIGHTING